Are MacOSX looks too tempting for you to try and you do not want to format your Windows XP?
Well, here is an alternative that allows your Windows XP look like MacOSX without any format/reinstall of operating system.
You only need to download and install FlyakiteOSX transformation pack. It will transform the look of an ordinary Windows XP+ system to resemble the look of Mac OS X.
The installer simply automates the process of replacing critical system files, setting registry tweaks, and installing extras such as cursors, sounds, visual styles, etc. All files needed for FlyakiteOSX are stored in the Windows directory in a folder named 'FlyakiteOSX' that is hidden by default. Software is supported for the following:
Windows XP (Home, Pro, RTM, SP1, SP2, Corporate).
Windows 2003 (Standard, Enterprise, Datacenter, Web, RTM, SP1).
Windows Media Center Edition (2003, 2004, 2005).
All Language Versions, almost 42 Languages.
Does NOT work with 64 bit versions of Windows.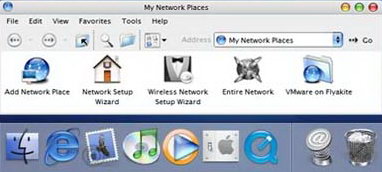 You can remove the software with ease by going to: Go to Start Menu > Control Panel > Add or Remove Programs and find FlyakiteOSX. Click on Remove and follow the instructions. Besides, you can also perform System Restore to remove this software. A restore point is created when you install this software.
FlyakiteOSX: Website – Download – Screenshots
Get set to play with looks of your operating system. That jazzed up Mac look on your very own Windows XP system. You can also give Windows Vista look to Windows XP using Vista Transformation Pack.