This is for Gmail addicts using multiple Gmail accounts and Firefox web browser. Gmail Manager makes management of multiple Gmail accounts very easy.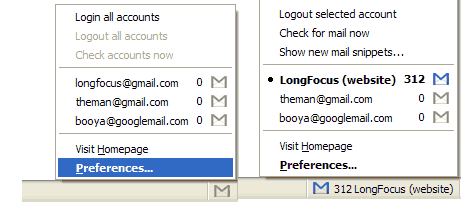 This is a Firefox extension that allows you to manage multiple Gmail accounts and receive new mail notifications. It displays account details including unread messages, saved drafts, spam messages, labels with new mail, space used and new mail snippets. Other features include:
Support for Gmail hosted accounts.
Ability to import/export account preferences.
Tooltip with account details and new mail snippets.
One-click access for loading your Gmail account.
Customizable icon placement in the toolbar/statusbar.
Download Gmail Manager to manage multiple Gmail accounts with ease, right from system taskbar.