Contacts is an important aspect of any online email service. Gmail has been improving Contacts feature by introducing new features like recovering deleted contacts removed accidentally. It also allows you to keep contact section neat with option to disable auto contacts addition, which otherwise inflate contacts section unnecessary. If you are a regular Gmail user, you must be having lot of contacts in the Contact Manager. Now you can add even more contacts without worrying about hitting to maximum limit to store contacts in Gmail.
Gmail contacts limit increase: From 10,000 to 25,000
Previously, you could add maximum of 10,000 contacts in single Gmail account. Even though this limit is good enough for majority of users – now maximum limit for contacts in Gmail is whopping 25,000 contacts. Yes, you can store information about 25,000 people in Gmail's contact section easily.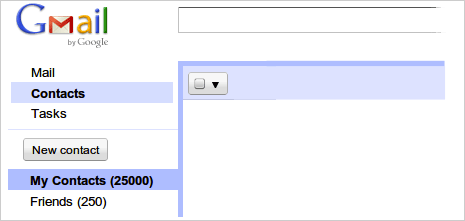 1. Login into Gmail and click Contacts at top left side.
2. This will open Contacts manager. You can create, edit, delete, restore contacts easily and even use keyboard shortcuts for contacts management.
There is more good news, previous an individual contact size was limited to 32KB in size. This has been increased to 128KB, which means lot more space to add extra information about each contact in the notes section. So, this implies you can store more detailed contact information of about 25,000 users (or people) in contacts section of Gmail account.
This for sure is welcome addition to Gmail, specially for extensive Gmail users worried about running out of Contacts limit – that just got harder! [via Gmail blog]