MorphThing is very basic and easy to use online image morpher. Select 2 images and with a click of a button get your final morphed image.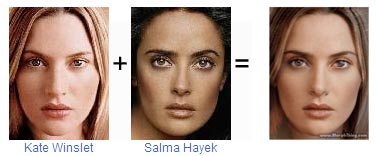 You can play around with this online tool without registeration. Just select any 2 images of celebrities as listed and click on morph button to get the final morphed results. Now you know how Kate Winslet and Salma Hayek combo will look like (see image above).
You can also morph personal images using same procedure. This requires free registration for you to able to upload images from the computer. Checkout MorphThing for some image fun with requires very less time and mouse clicks!