"How will my face look after 20 years?" Is this question troubling your mind? You can easily get the answer to this question using "In20Years" tool. It is an online tool that allows you to upload your face image and process image as it should look after 20years. In more simple terms, this tool renders age effect to your uploaded photo.
Age effect to image online at In20Years
1. Open In20Years website on your computer.
2. Select your gender and age group. Also select, if you are a drug addict or not (as addicts tend to get more aged in small period of time).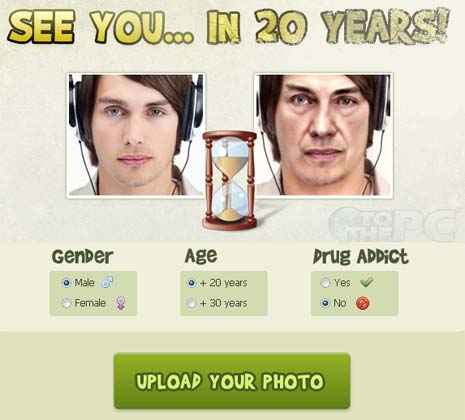 3. Click "Upload your Photo" button. Select photo on the computer to upload it.
4. After few seconds, your photo as you may appear 20 years from now should appear. You can download, save or share that photo with friends.
It is more of a fun tool like online tool to see how your future baby will look like?