Nimbuzz has released its multi instant messenger app for Android powered mobile phones. It allows you to IM and chat with friends from the phone. It supports popular IM services like: Skype, Facebook, Yahoo!, Windows Live Messenger (MSN), Google Talk, AIM, ICQ, MySpace, StudiVZ, Gadu, Jabber, Hyves and more. Feature list includes: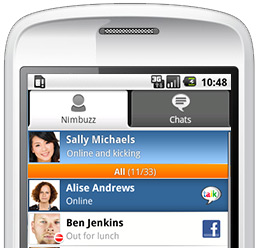 1. Smart buddy list layout displays avatar and presence information in one, combined with community and resource information (if your buddy is online on the mobile or PC).
2. Auto reconnect keeps you connected when switching between 2G, 3G and Wifi networks and automatically reconnects you if the service has been interrupted.
3. Time sensitive UI detects how long you press on a buddy's name. A light touch opens their profile and a stronger touch instantly starts a new chat.
4. Clickable URLs make for a multi media rich chat experience – share Youtube videos and Wikipedia information. A browser window will open from which you can seamlessly switch back and forth to Nimbuzz.
5. Home screen notifications alert you of activities such as incoming chats while Nimbuzz runs in the background.
More Android Apps: Find Local listings – Language Translator App
Unique to Android users, only Nimbuzz integrates Skype IM and local social networks such as Hyves in the Netherlands, StudiVZ from Germany, Gagu Gadu from Poland, and Giovani from Italy. To download: goto Android market & search for Nimbuzz [via Nimbuzz Blog]. Here is video preview: