Obama Inauguration Ceremony has hogged the limelight big time. We have already seen after-effects of Obama as President of United States with all new WhiteHouse.gov website with a prominent BLOG. Here is another for history books ultra HQ images of Obama Inauguration clicked from space.
Below: This half meter resolution image of the United States Capitol, Washington D.C. was taken by GeoEye – I satellite on Jan 20, 2009 to commemorate inauguration of President Barack Obama.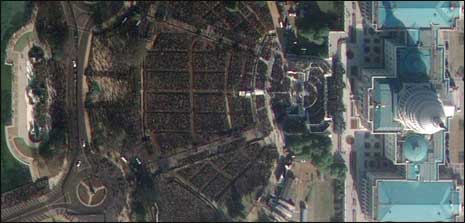 Those block of grass looking in front of White House domb is actually enclosures full of people. You need to see the HQ version to get feel of sea of people at the ceremony venue. Head over to GeoEye website [Gallery Link]  to see more images – real big ones!