If you deal with lot of documents and files online, then Open IT online plugin can make your techno life real easy. It is an addon for Firefox, Flock, Internet Explorer that allows to open, edit & save documents from anywhere. It can open different file types online without any need to install special software for specific files. It works with following file types:
– Documents (*.doc, *.docx, *.rtf, *.odt, *.sxw)
– Spreadsheets (*.xls, *.xlsx, *.csv, *.ods, *.sxc)
– Presentations (*.ppt, *.pptx, *.pps, *.odp, *.sxi)
– Images (*.jpg, *.gif,*.png)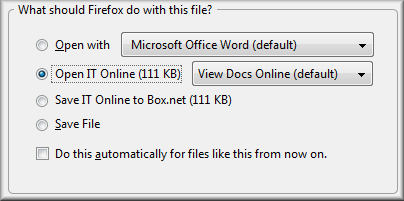 It allows you to open documents on Google Docs, Zoho, View Docs Online and Vuzit. While web services like: Pixlr, Picnik and Snipshot can be used to open images. You can also save documents online quickly at free box.net account using this addon.
Just select Save IT online to box.net option (see pic). As such you can select any web service of your choice to open any document. Grab Open IT online addon for your web browser and manage documents with ease!