Recent Tabs feature in Google Chrome is very useful specially when you want to recover accidentally closed website tabs. It helps you open and restore recently closed website tabs in Google Chrome. You can browse list of recently closed tabs and open back specific tab or all tabs as per requirement. In new Google Chrome version 29 and above – this feature has been re-positioned to Chrome's Settings menu.
Open recently closed tabs in new Chrome browser
1. In your Google Chrome browser, click on dash button at upper right. Then goto Recent Tabs and open any listed website tab. By default, it will show list of all website tabs that you have closed recently during current browser session. If you close or restart Chrome browser, recent tabs list will be set to blank.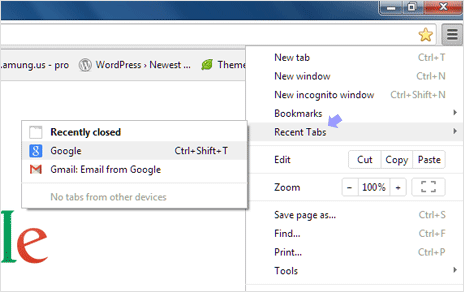 2. You can also open last recently closed tab using keyboard shortcut Ctrl + Shift + T keys. Using these methods you can restore last recently closed tabs in Google Chrome browser. For users with older version of Chrome, check the method discussed in second part of the article.
Video: Restore last closed tabs in Chrome
See & open last closed Tabs in Chrome (old version)
1. Launch a new tab in Google Chrome browser. It will show website screenshots of last opened tabs. Look for Recently Closed bar at the bottom of Chrome window. It shows last 5 closed tabs in Google Chrome browser.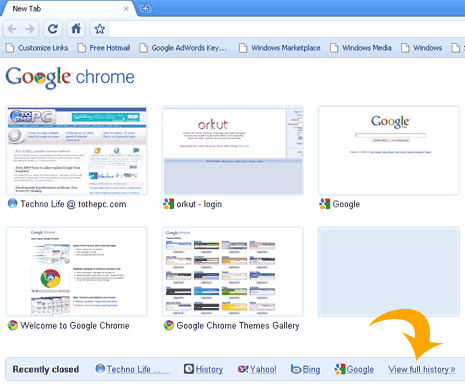 2. Click View Full History button to see detailed list of websites opened in recently closed tabs in Google Chrome. From the list, you can restore any last closed tab in Chrome browser.