With everyone so busy with their daily chores, getting people hooked is a big ask. Getting people to attend a political rally is more difficult with boring speech in offering.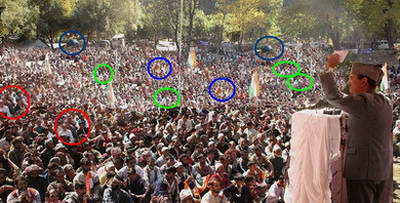 So, what is the solution? Well, Adobe Photoshop! Yeah, this is what came to the rescue of Chief Minister Ghulam Nabi Azad addressing a public rally in Verinag area of central Kashmir. Photoshop was used to make a thin attendance at rally big, bigger, huge.
Check out the pictureas released by the Jammu and Kashmir Department of Information. Probably they hired Photoshop amatures to swell the crowd and flaws visible to naked eye.
Check out encircled parts for the goof up! Click here for bigger version of image to see graphic editing gone bad. [via]