LAN Speed test is a portable and handy tool to measure LAN speeds. It checks for Local Area Network data reading and writing speeds. It performs the test by writing a file to a folder, then clears the windows files cache and again reads the file back. It again clears cache, deletes the file and displays the read, write speed results.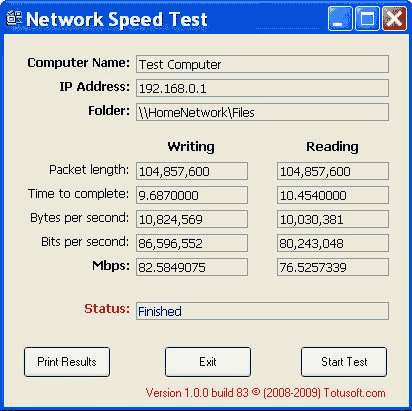 Features of LAN Speed Test
1. Measures Local Area Network read, write speeds.
2. Select any folder on LAN for testing purpose.
3. Display details like: packet length and time to complete test.
4. Speed results is shown in Bytes per second, Bits per second, Mbps.
5. Has print button to quickly print speed test results.
Download LAN Speed Test utility to quickly measure reading and writing speed on Local Area Network. It is a portable utility and does not require install. Just download and double click to launch the utility. Works fine on Windows 98, 2000, 2003, XP & Vista.