Do you want to test and gauge the performance of RAM on the computer? Roadkil RAM Test is a free portable utility to check performance of memory installed on the computer. It checks memory for errors and also list speeds for data read and write for RAM.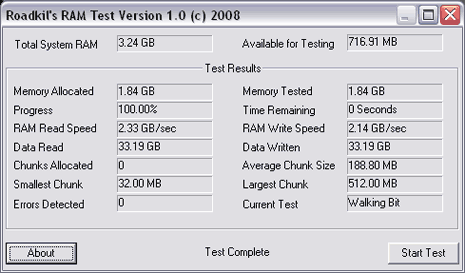 Features of Raodkil RAM check
1. Displays final RAM read & write speed in GB/sec.
2. Shows amount of total data write / read during test.
3. Number of RAM errors detected are shown after the test.
4. Show smallest & largest memory chunk(s).
5. Simple and easy to use interface.
Related – Measure Read & Write speed of Hard drive, CD ROM
Besides, RoadKill RAM test is a portable utility. Just download, unzip and double click icon to launch utility. Then click "Start Test" button to check for RAM errors, speed and performance. Handy tool to check RAM.