Tiny Typing Tutor is a damn easy to use software for improving keyboard typing skills. It has DOS like interface that facilitates greater focus on typing rather than user-interface. It allows you to start and learn typing from basics. You can go through different levels with each level focusing on specific set of keys.
How to Use Tiny Typing Tutor?
1. Download Tiny Typing Tutor and unzip it.
2. Double click program icon to launch it.
3. Press "1" key to start the typing lesson.
4. Then type words as shown on the screen.
5. Once 4 lines of test is complete, see your results.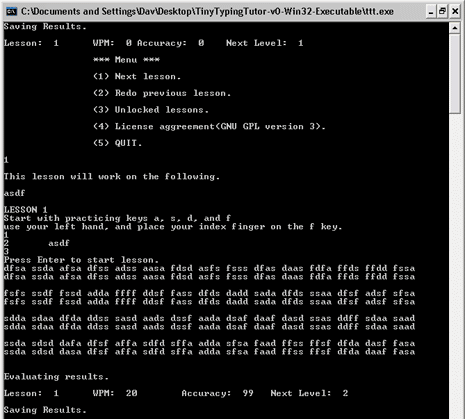 Results show typing accuracy in percentage and typing speed in WPM (words per minute). You can repeat the same test to improve performance or skip to next typing lesson for different set of keys. This is very simple program to learn typing, for more advanced features try Amphetype typing software.