We can easily resize static JPG, BMP & PNG images using different applications like Windows tool, batch resizer to online resizer tools. Same is not possible for animated GIF images. Any attempt to resize GIF images results in static resized images. However, GIF Resizer portable tool makes resizing of animated GIF images an easy routine.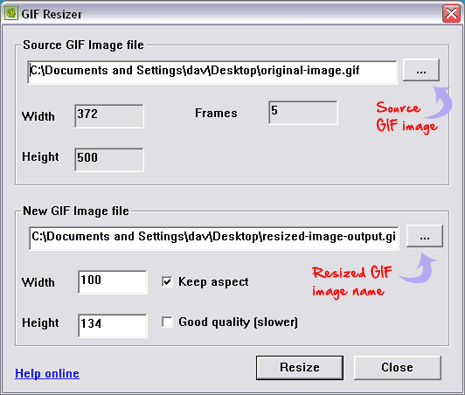 Steps to use GIF Resizer tool
1. Download GIF Resizer tool & unzip contents.
2. Double click GIF Resizer icon to launch the tool.
3. Select the source GIF image, that should be resized.
4. Select the file name for final resized GIF image.
5. Enter width & height of the final resized GIF image.
6. Click Resize button to get final resized GIF image.
Related – 5 Tools to make Animated Gif Online with Ease
GIF Resizer tool for sure is one handy and quick way to resize GIF image. Best part, it is a free portable tool and does not require installation.