Java runtime environment (JRE) is essential software to run Java based applications on the computer. With newer release, old version of Java is no longer required and should be removed from the computer. JavaRa is a simple portable utility to uninstall / remove older version of Java in few simple clicks.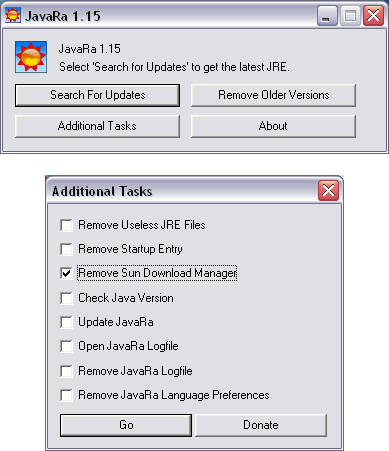 Steps to use JavaRa to remove Java from PC
1. Download JavaRa, unzip file & double click to launch application.
2. Select your language among English or other in the list.
3. Click "Remove Older Versions" button to remove old Java on PC.
4. "Search for updates" button help you find latest Java for the PC.
5. Click "Additional tasks" button to use more Java removal features.
JavaRa is very easy to use portable utility to remove Java and its elements from the computer. You can also search for latest Java and install it on computer to run Java based application in perfect manner.