Don't find taskbar useful enough for taking so much space on the desktop screen? You can easily remove or hide taskbar on Windows PC using free portable tool 'Taskbar Eliminator'. Just like 'Taskbar Hider utility', it allows you to hide and remove taskbar with a quick keyboard shortcut key. You can get back taskbar anytime by pressing of few keys.
Hide taskbar on Windows desktop
1. Download Taskbar Eliminator program.
2. Unzip it & then double click to launch it.
3. Taskbar will be removed, press Alt + T keys to get back or remove taskbar.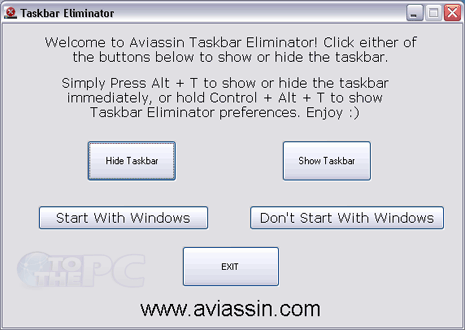 4. Press Ctrl + Alt + T keys to view taskbar eliminator settings window (as seen above).
More Windows Taskbar play
There number of other ways to customize and play around with taskbar. You can drag drop buttons on taskbar for arrangement as per requirement.
Transfer and move buttons from taskbar to system tray for more neater looking taskbar. Also, hide tabs on the taskbar, just incase your boss is around!