Taskbar can become cluttered with too many opened Window programs. You can customize open programs showing on the taskbar using free utility "Taskbar Helper". It allows you to organize contents showing on the taskbar by hiding rarely used Windows or moving them from taskbar to system tray area to save space and bring order to the taskbar.
Features of Taskbar Helper program
1. Show and hide specific Windows display on the taskbar.
2. Allow you to display icon of hidden windows on system tray.
3. Ability to hide Windows while minimizing them.
4. Customize programs showing on the taskbar.
5. Move any opened program Windows to the system tray.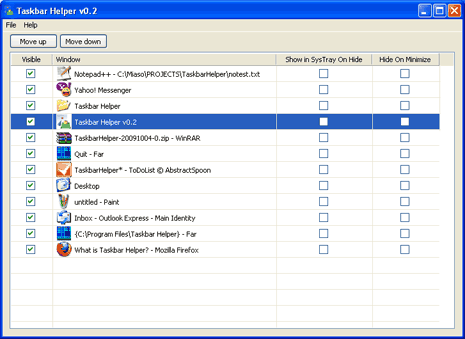 It has easy to use simple interface. Just check options like: visible, show on system tray on hide and hide on minimize: for any opened Window showing on the taskbar. You can also move up/down to re-order opened programs showing on taskbar. Download Taskbar Helper