JPEG Image format is highly flexible and its can be compressed to great levels. More compression result in less JPEG image size (with less visual quality of the image). Photo manipulation software like Photoshop has settings that allows you to configure exact JPEG image quality output in percentage (from 0% – 100%). JpgQ is a cool portable utility that allows you to check percentage quality setting of any JPEG image.
See JPEG image quality percentage setting
1. Download JpgQ program [530kb] & unzip it.
2. Double click to launch the program.
3. Click "Load JPEG" button & select any JPEG image file.
4. Then click on "Run" button to see quality settings.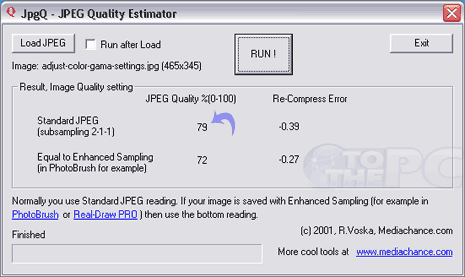 Related – 5 Killer ways to Optimize Images for better ShowOff
It displays image quality settings in percentage (from 0% – 100%) and also show re-compress error level (if any). JpgQ for sure one handy utility for photographers and designers to check on quality of images before using them in projects. Also it is free, portable and very easy to use!