Everyone is creating their own identity on Facebook website. While few users make personal account on Facebook and assign custom Facebook URL that is easy to remember (and share). Other users make Fanpages on Facebook to promote their brand, business, personality and organizations. Many of us grab official Facebook like widget and display it on our blogs / website to allows users to like our Facebook page(s). There is another creative hard copy printed poster format, that can be used to enable users to like your Facebook pages.
SpotLike to print Facebook like poster with QR code
You can print functional poster with (mobile) QR code of your Facebook page using service  on SpotLike website. Besides looking good and funky – users looking at the poster can actually use QR code printed on the poster to open your Facebook page on their mobile phones (and further click on like button). Here is simple procedure to get going:
1. Open SpotLike website on your computer.
2. Enter your Facebook page name. For example: for Facebook page www.facebook.com/tothepc – just enter tothepc in the text box provided on the website.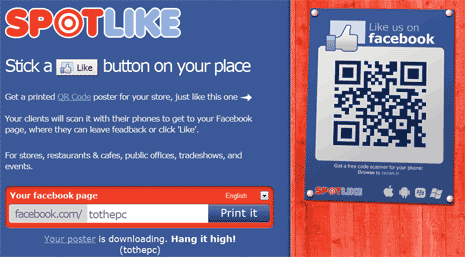 3. Click Print it button and you will get prompt to download a file.
4. Click save button on the prompt to download PDF file containing your Facebook like page poster with QR code.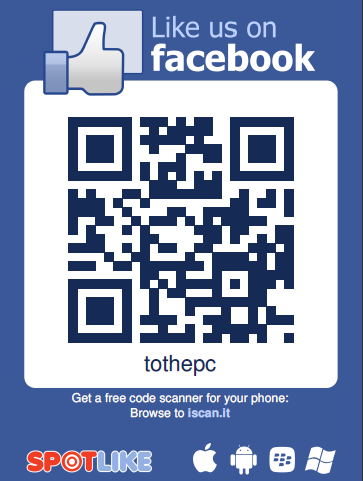 5. You can print the poster from downloaded PDF file in size of your requirement using standard printer. Then stick printer at any place of your choice like stores, restaurants & cafes, public offices, tradeshows and events.
How users can scan & read QR code on poster
Majority of smartphone with camera can easily read QR code and open associated URL in the web browser of your mobile phone. If you are not sure, open iscan.it website and click on device you are using to scan QR code. Click on either of iphone, ipad, android and blackberry to get webpage to download app for reading QR codes on your mobile phone.