'Windows Shortcut Exploit' (also called CPLINK) is a vulnerability in all Windows versions that causes shortcut link on Windows to run malicious DLL file causing further harm to the system. Microsoft is working on fix for this issue, in the meantime you can check on this exploit using Sophos Windows Shortcut Exploit protection tool.
What is 'Windows Shortcut Exploit'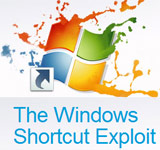 This exploit allows a Windows shortcut link, known as an .lnk file, to run a malicious DLL file. The dangerous shortcut links can be embedded on a website or hidden within documents. It can also be exploited and spread via a malicious USB drive or network shares and WebDAV (even when autoplay is disabled).
Sophos Windows Shortcut protection tool

You can download free tool Windows Shortcut Exploit protection from Sophos. This tool first scans your computer with your existing antivirus to check for and remove malware that may be present. It will monitor and block exploit from running as a result of Windows Shortcut vulnerability.
Video Demo of Sophos protection tool
So before the official Windows fix for this issue is released by Microsoft, you can use Sophos tool to stay protected from this Windows vulnerability.