If you are looking for an easy, quick way to gulp lot of news in least amount of time and screen-space, then checkout new experimental feature Google news timeline. It displays news on a on a zoomable graphical timeline extracted from number of news sources.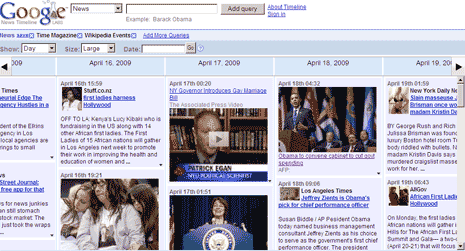 You can browse latest news results from Google News including headlines, quotes, photos from Hosted News partners and YouTube partner videos. You can search for vintage stuff by going back in time. It allows you to view news results by day, week, month, year and even a decade. Alternatively, you can enter any specific date to see news for that day.
You can also add specific search queries and save them for quick access later on. Explore the news like never before in neat, well organized manner and from time (year, decade) of your choice. Bump into Google News Timeline [via], you will for sure like it!