"ReadAir" application bring Google Reader out of your web browser. ReadAir is a standalone application that can act your Google Reader.
It can fully sync with Google Reader account and server RSS feed content on the fly. You can add, remove and manage tags within this application.
Other Google Reader routines including: Subscribe/Unsubscribe from feeds, Search your feeds, User preferences, resizing window panes can also be done using ReadAir.
Based on Adobe AIr, basic look is very similar to Google Reader. Asthetic design comes from Mac OSX and it is compatible with both MAC and Windows.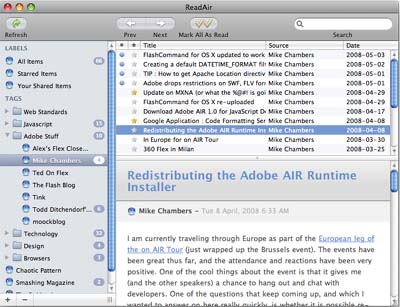 Currently it support basic features of good old Google Reader. More feartues will be added soon including: offline access, keyboard shortcuts, ability to view more than 20 posts.
For a test drive, install Adobe AIr and then Read Air. [via FreshAIRapps]