Every new version of Firefox clocks record downloads from its loyal existing and ever increasing new Firefox users. Mozilla has setup real time live counter showing Firefox downloads per second from users located in different countries. It displays country-wise maximum, minimum, current and total Firefox downloads per second.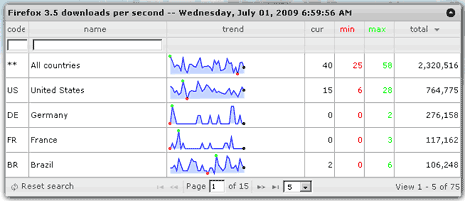 You can also view Firefox downloads trend with up/down worm. Besides the tabulated live data, page has world map with pointers showing current user download location. You can zoom in and out by using mouse scroll wheel and see finer location details. Checkout real time Firefox downloads, it looks cool – Firefox for sure got it users hooked!
Note: Real time stats page did not load fine in Internet Explorer but opened like charm in Firefox browser!