Email account is very personal and important resource for any web user. Forgetting password and losing access to email account as a result of hacking are few perils of using online email account. If you are a Windows Live Hotmail account user and has lost access to your email account – then following should help. You can recover access to Live Hotmail account in event of not remembering the correct password or account hacked by someone.
Can login? So Change Password

If you can still login into Hotmail account and believe it is been accessed or hacked by someone – then you should change account password immediately.
1. Goto account.live.com to change account password.
2. You may get prompt to enter your cell phone number. You will receive secret code via SMS on mobile phone for successful modification of account password.
Can NOT login? Try Resetting password
If you are not able to login into Hotmail account then changing password is not an option. However, you can try resetting account password for recovery of account access.
1. To get started open Reset Password page.
2. If you have setup a location and secret question on your account, then you can answer it by selecting 'Use my location information and secret answer to verify my identity' option.
3. If you have alternate email address added to account details, then send yourself password reset link on alternate email ID by selecting 'Send password reset instructions to me in e-mail' option.
Contact Hotmail support for account recovery
If you have tried alternate email address and secret question methods – then you can contact Hotmail support for account recovery using Windows Live Validation page. It involves following procedure:
1. Enter any current email address that you can access to allows Hotmail support to contact you.
2. You will be asked series of questions about your Hotmail account. Your answers will help support establish ownership of the account.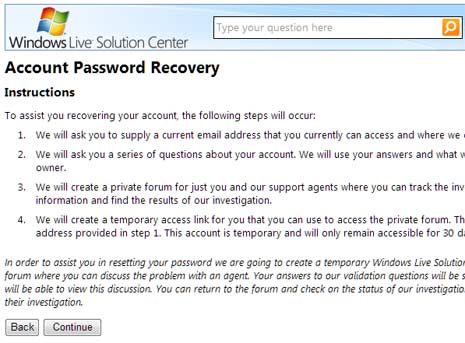 3. A private forum will be created just for you so that support agents can track the investigation, ask additional questions, supply additional information and find the results of the investigation.
4. A temporary access link will be created for you to access the private forum. This account is temporary and will only remain accessible for 30 days.
Clicking continue button will create a temporary Windows Live Solution Center account. Using this account a private forum will be created allowing you to discuss and investigate on Hotmail account recovery.