If you own a Nokia phone, then 'Nokia Email Service' is worth a try for you. It automatically delivers email from your current (upto 6) email addresses to your Nokia mobile phone. You do not have to change the email addresses you already have.

You can View, answer, forward, compose, and delete email messages. Also, manage your email inbox, outbox, drafts, and sent folders – all done on your Nokia phone. To get started you need:
An existing Internet email account.
A wireless data service plan with your wireless operator.
AÂ supported Nokia phone.
Nokia Email service software installed on your Nokia phone.
GETTING STARTED
First, you need to sign up for a free account at https://email.nokia.com Select your Nokia phone model among supported models including: Nokia E51, E61, E61i , E65, E66, E71, E90, N73, N78, N82, N95, N95 8GB. Then provide login details of existing internet email addresses and your telephone number.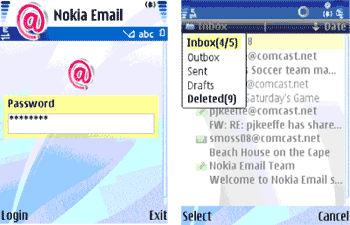 HOW MUCH DOES IT COST?
There is no charge for using Nokia Email service during the beta trial. However, you may incur third party charges in connection with the transfer and receipt of data to your mobile phone, such as the mobile data service cost charged by your wireless operator.
So, if you own a Nokia phone and have addiction for email – test drive Nokia Email Service. It makes life easy accessing emails on your mobile phone. Read FAQs here – More here