We have already seen procedure to upgrade Hotmail to new Outlook email account. New @Outlook.com email account has completely new and different user interface design as compared to older Live Hotmail inbox. If you are fan of minimalistic metro user interface (as seen in upcoming Windows 8 OS), then moving from Hotmail to new Outlook email will be more than a welcome change. However, few users may not like the simplicity of metro inspired interface of new Outlook.com email.
Revert & get back old Hotmail from new Outlook email
Few users may find new Outlook email design too simple and off-beat. For example: Jason Louttit commented at our social page on facebook.com/tothepc:
"Tried it – switched back to Hotmail interface. Why Microsoft feels that people want a drab (almost Windows 3.1) interface is beyond me"
(facebook.com/tothepc/posts/366691876736211)
1. Fortunately, Microsoft has provided option to switch back to old Hotmail design – just in case you hate new Outlook email design interface. Login into your new Outlook email design at Outlook.com website.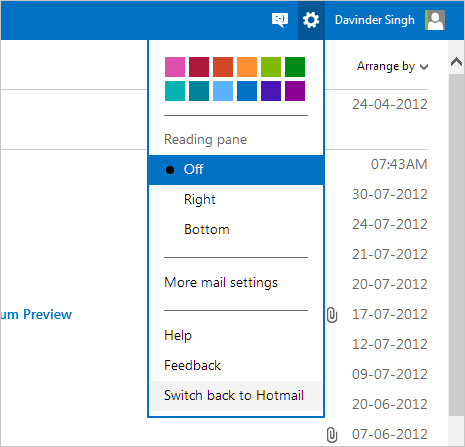 2. Click on Settings icon at right side of top navigation bar. Then click 'Switch back to Hotmail' option. Then you should see pop-up box asking for feedback on new Outlook design. You can write your 'not so good' Outlook experience or click Skip Feedback button to continue.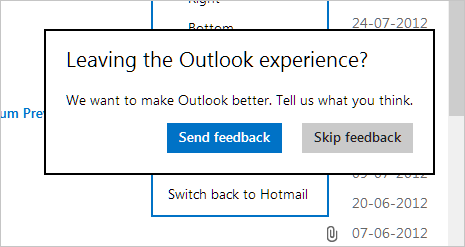 3. Within few seconds, webpage will refresh and your inbox should appear in older Windows Live Hotmail user interface. After the switch back, there is still option to upgrade to new Outlook which can be used anytime. While in the inbox, click Options button at top right and then click Upgrade to Outlook.com option.
While switch back option from Outlook to Hotmail is available as of now, it may not last for long. Microsoft is introducing metro user interface in its every product and service – it may not be long when all @msn, @hotmail and @live email accounts are automatically migrated to all new modern @outlook email user interface.