Google Docs is no-frill way to create Word documents without installing any software on the computer. While Microsoft Office is most widely used software installed on computer. Integrating Google Docs (online) with Microsoft Office (offline) can result in an un-beatable offering. Now, this is possible using cool MS Office addon – OffiSync.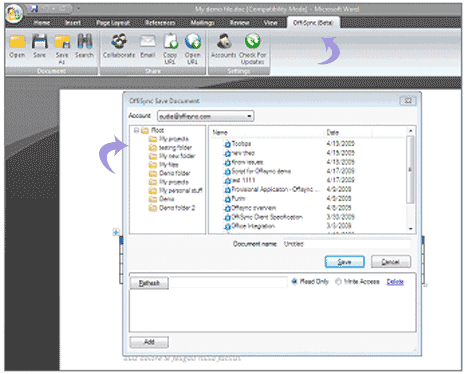 After it is installed, there will be new menu option for accessing Google Docs from within Microsoft Office application. Click on open to browse different folders of Google Docs account and open Google Doc file of your choice. You can edit any Google Docs file and a click on save button will automatically update the online Google Docs file from within MS Office.
It support multiple Google Docs accounts (both default and Google Apps). Besides browsing different folders of Google Docs account, you can move files among folders, delete any file or folder. It also integrates Google Search feature allowing you to quickly search any Google Docs file. If you are heavy Google Docs user, grab OffiSync Add-on to open, edit and save Google Docs within MS Office – very impressive and simple, indeed!
It works fine on Windows XP, Vista, 7 and is compatible with MS Office 2003, 2007. Here is video explaining all: