Google Translate is a useful service for language translation of any text, webpage url and documents. Till now, we could only translate in real time without possibility of saving or recording translation results. Hence, one has to repeat translation process every-time even for same text or webpage in the future. You can easily bypass this using new "Phrasebook" feature in Google Translate.
Phrasebook to save text translations in Google Translate
You can easily save and keep record of translation of useful phrases using Phrasebook feature in Google Translate. This is a handy feature for future reference of already translated text contents. Using Phrasebook feature is very quick and easy process.
1. Open Google Translate at translate.google.com website. Make sure you sign in to your Google or Gmail account to access Phrasebook feature in Google Translate service.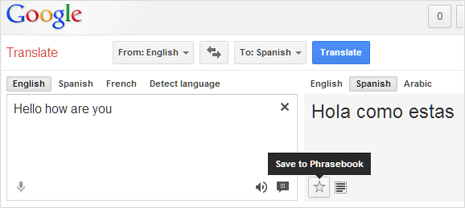 2. Perform any text translate between two or more different languages. Then click Star button to save current translation to your Phrasebook. Similarly, you can save one or more translations in the Phrasebook.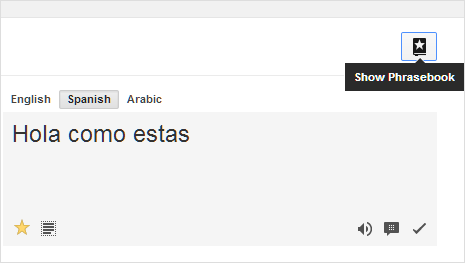 3. You can easily view previously saved translations by clicking Show Phrasebook icon at top right. You can also browse previous text translations saved in the Phrasebook.

4. Besides viewing old translations, you can delete specific translations not required now. Just click to select the translation listing and then click Delete button at the top. You can also filter translations by language by clicking  All Languages drop down box.
Video: Using Phrasebook feature in Google Translate
This for sure is a useful feature for Google Translate users. It eliminates the need to repeat translation routine for same text contents and allows quick reference to old saved translations thereby increasing productivity by virtue of time saving. [Credit Google Translate blog]