"… Spread some holiday cheer, one card at a time", this is the cheerful tagline of cool offering by Gmail for US users. Anyone can send free (hard copy) greeting card via actual mail (not email) to any address within United States. Besides the colorful card, you can type custom cheerful message (no bad words) and let Gmail deliver card free for you.
Snail Mail Free holiday cards from Gmail
1. Head over to Gmail Holiday Cardwebpage. [via GmailBlog]
2. Enter your custom message, recipients name and address.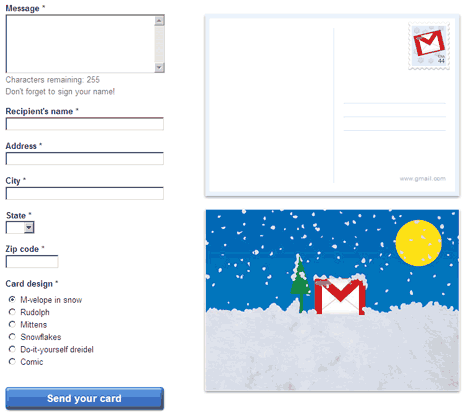 3. Click to select either of 6 colorful card designs.
4. Hit "Send your Card" button to quickly send your Holiday card and spread lots of Holiday cheer!
If you do not want indulge into greeting cards, how about more useful 2010 printable calendars. You can also customize calendar with own photo and quickly print it.