Many users keep multiple email ID accounts for different personal, business and networking needs. If you are a Hotmail (Windows Live) email user, you can setup different multiple email IDs and still use same existing Hotmail account. This is possible by create Hotmail aliases feature. You can create a new (and different) email ID in exisiting email account. All emails for new alias email ID can be managed in separate folder in existing Hotmail account.
Concept of Aliases: the background
Traditionally, we use special characters like +, – or . to create aliases of existing email IDs. For example alias for tothepcblog@live.com can be tothepc-blog@live.com email ID. In this approach, one can still guess out and spam your original email ID. New aliases method allows you to setup competely different email IDs (provided they are available).
Create email ID aliases on Windows Live Hotmail
1. Login into your Hotmail email account.
2. Then click to open create aliases webpage.
3. Enter the email ID alias and then click Create an alias button.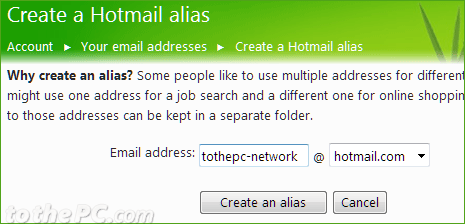 4. Then you will get prompt to select folder location for receiving emails messages for alias email ID. You can specify a different folder like tothepc-network@hotmail.com as in above screenshot or chose inbox for receiving messages for alias email ID(s).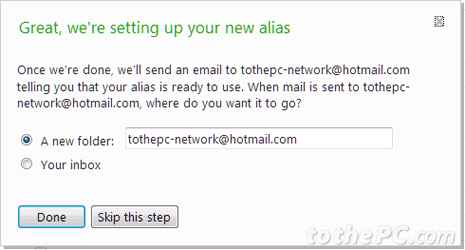 5. Your new alias email ID folder (if selected) will be listed on left sidebar under 'Folders' option. You can click it to view and manage messages for that email ID alias.
Similarly, you can add upto 5 alias email IDs to Hotmail account in an year. Using this feature, you are virtually  managing upto 5 email IDs using same email account login. Neat, isn't it? [source]