There are number of web services to share stuff on Twitter from sharing photos to sharing videos. TwitDoc promises to be all in one solution to share any kind of file or document on Twitter. Just login into Twitter account, enter your tweet, upload file from the computer and you are all set to send tweet laden with attached file weblink.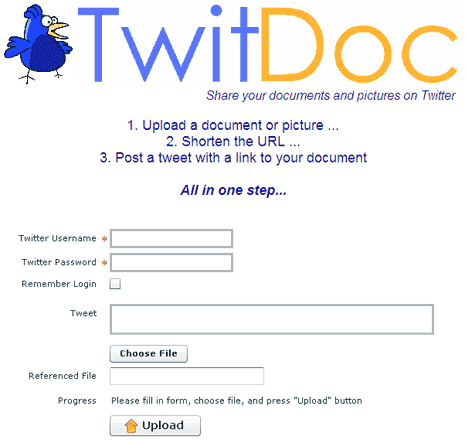 Related – 3 Tools to share photos on Twitter from PC or Mobile
It supports number of file formats like pictures (jpg, png, gif), documents: Word (doc, docx), PowerPoint (ppt, pptx, pps), Excel (xls, xlsx), PDF, PS, Open Office (odt, odp, sxw, sxl), and text (txt, rtf). TwitDoc [via] for sure will make file sharing on Twitter easy without having to worry – what is the format of file I am attaching?