Twitter can be very addictive and if you are getting bored of expressing yourself with only text, how about sending a tweet loaded with your favorite Mp3 song or Youtube video? Listento.fm web service allows you to do this in few simple clicks. To get started, enter your Twitter username, song or video name and title.
Then paste link of mp3 song, Youtube or Imeem file anywhere on the internet and hit the preview. If you like what you hear or see, click the tweet button to send specific song or video on Twitter.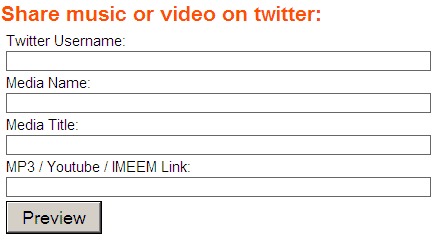 Related – Tweet & Share Mp3 songs on Twitter with Songly
Listento.fm homepage has cool list of top songs and video for easy selection. A quick click on any media link listed on the website will fill detail automatically with you only having to preview and send the selected media to Twitter. Checkout following video explaining it all:

Listento.fm Post Music & Video on Twitter – DEMO from Listento.fm on Vimeo.