There are loads of web services like tinyURL.com to snip and shorten long URLs into small URLs for easy sharing. Adjix is a URL snipping and shortening service that pays you for sharing shortened links.

Besides creating shortened URLs, you can earn money each time you share shortened link created using this service. Just enter the long URL, select type of ad for that link (optional) and click on 'shrink link' button.
Ads are shown at the top of the webpage (as shown in image above). Ads remain there till user enter new URL in the web browser. If offer two shortened options that include:
Short URL like: http://adjix.com/fnkt
Ultra-Short URL: http://ad.vu/fnkt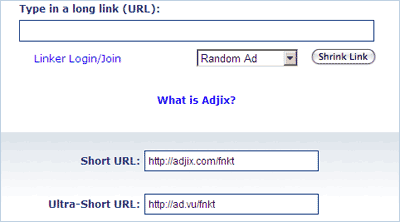 Checkout Adjix and get set to shorten URLs and earn money in the process. Please note, make money option is only available in US during the beta period.