Things are getting more interactive on internet. After collective group video making, here comes collective online Sketching at 'SwarmSketch'. It is an ongoing online canvas that explores the possibilities of distributed design by the masses. A new sketch begins after one week, or after the previous sketch reaches one thousand lines, whichever comes first.

Each user can contribute a small amount of line per visit, then they are given the opportunity to vote on the opacity of lines submitted by other users. By voting, users moderate the input of other users, judging the quality of each line. The darkness of each line is the average of all its previous votes.
This week's topic is China Tiger with hundreds of users contributing a line and number of them invloved in voting on existing lines. Can you make this Tiger look better? Here is the current form of 'China Tiger' sketch: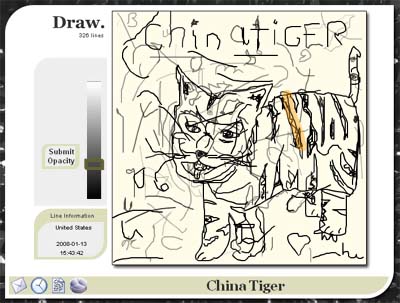 You can contribute your line to fasten the process to complete this sketch. You can also browse the previous sketches and view animations of their progression.
Overall, it is an interesting way to contribute in a creative effort. Restriction of drawing only one line per visit is a turn OFF. Once you get involved you want to draw more and more. However, restriction is valid in the light of number people drawing at the same time.
SwarmSketch: Website – Draw Now – Browse previous sketches
After drawing one line you can focus on voting and correcting lines drawn by other users. It can be absorbing process and you will certainly love it!