Every Skype user can select one image to display as default Skype profile photo. You can upload specific image from computer or click via attached webcam. By default, profile photo is visible to every Skype user. So if someone searches for your name in Skype program, your photo will display next to your profile name.
Hide Skype Profile photo from public & make it private
Majority of users may not want to display or expose their profile photo to every other user of Skype. Fortunately, Skype provide option to hide profile photo from public and make it private.
1. When you login into Skype program (on Windows PC), click on your profile name at top left. This will open your profile information page with profile photo at top left.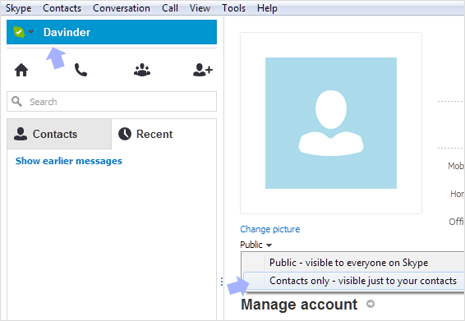 2. Under the profile photo, look for down arrow under "change picture" option. Select "Contacts only – visible just to your contacts" option from previously selected "Public – visible to everyone on Skype" option. Changes will be saved automatically, no need to click anywhere.
Video: Set Skype Profile Photo to Private
This will reduce your Skype profile photo visibility to only contacts already added to your Skype account. After this change, your Skype profile will be still search-able or discover-able by other Skype users but they won't able to see your profile photo in search results.