Android phone users can now enjoy free calls using official Skype app for Android. With this new app you can make free Skype to Skype calls, send and receive IMs for free, one to one or with a group. Besides free calls, you can also call phones that do not have Skype using Skype Credits at attractive rates.
Download & use Skype app on Android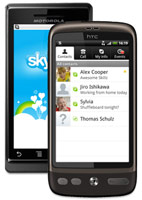 1. Point your Android phone browser to www.skype.com/m and download the Skype app on your phone. It only  works with Android 2.1 or higher. You can check current version of Android OS on your phone by going to Settings > About.
2. Once you have app on the phone, login using your Skype account and your Skype contacts should load. If you are new Skype user, you can create fresh Skype account to get going.
Things to Note: Skype for Android
1. In US, you can only make calls over WiFi network.
2. As of now, it does not support video call. Next version may include it.
3. This app has problem workingon Samsung Galaxy S phone. Skype is working to fix it.
4. Skype app works fine on HTC and Motorola devices with Android OS 2.1 or above
5. Skype is not available in the Android Market in China or Japan. [via Skype Blog]
Video Pitch: Skype for Android app