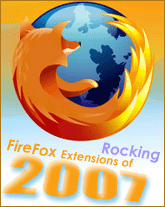 Download Blog at download.com has come up with the list of top 10 FireFox Extension for year 2007. Must say they have done some real good research in picking up best ones.
Aptly describing extensions as grains of sand on beach, considering the huge number of FireFox extensions that are available now.
Anyway, here goes my top 5 List of FireFox extensions that rocked and got the users they deserve.
1. DownThemAll – This is one extension that can make life really ease if you are a download addict. It is a download manager that present you everything that is download-able on a given webpage. You can select the type of file, destination folder and set other filters while download files. Very handy indeed.
2. Gmail Space – One cool FireFox extension that converts quality space of well over 5GB of your Gmail account into place for storing important files. Using Toolbar button or menu-bar coupled with FTP style interface transfer files you want. After uploading it send email with the file as an attachment to your Gmail account. Very useful and has lot of other features as well.
3. Auto Copy – This allows you to copy text from any webpage on the fly. Just select or highlight the text you intend to copy and text will be saved to clipboard automatically. Besides you can setup keyboard shortcuts to quicken the whole process.
4. Tab Mix Plus – It is just like 'greasing' or smoothing out tabs in Firefox browser. It can change behaviour and actions performed by tabs. You get set to browse, open, close, re-open tabs via mouse gestures, scrollwhell etc. Just try it out, you will love this.
5. FireFTP – Kick out your Standalone FTP software and convert you Firefox browser into FTP Client with this plugin. You can setup multiple account with saved information to quick uploading to either account. Must have for folks managing number of blogs or website.
Above were my top 5 FireFox Plugins that rocked year 2007. Other 5 plugins that made to the list of "download Blog" were: AdBlock Plus, Better Gmail, Customize Google, Mr Tech's Local Install and All-in-One Sidebar.
For More FireFox Extensions do check out 5 Must Have FireFox Extensions or Add-ons. Next year one should see more creative and useful extensions as the FireFox community grows for the better. [via]