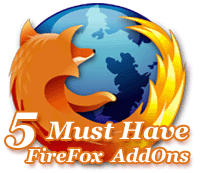 FireFox is one browser that can customized to a great extend. Unlike Internet Explorer, this ability to customize and make a personalized version of browser makes FireFox so special and important.
There number of FireFox Add-ons/extensions available to extend its functionality and make life easy. Here are my 5 Must have FireFox Extensions:
1. Greasemonkey –It allows you to customize the way a webpage displays using small bits of JavaScript. Hundreds of scripts, for a wide variety of popular sites, are already available at http://userscripts.org. You can write your own scripts, too. This 'Monkey' is very popular among FireFox users.
2. StumbleUpen Toolbar –Liked a website or weblink? StumbleUpon it with ease within FireFox Browser. This helps you find interesting webpages you wouldn't think to search for. Also check out 10 tools to make your StumbleUpon Experience better.
3. Download Statusbar – Very handy extension to manager downloads. The fully customizable interface auto-hides when not in use, allowing full control without interruption. You can even pause a download and resume it later.
4. FireShot ScreenCapture –It creates screenshots of web pages. Unlike other extensions, this plugin provides a set of editing and annotation tools, which let users quickly modify captures and insert text and graphical annotations. Read morewith Video Demo about FireShot.
5. WML Browser to view Mobile Websites –You can view mobile websites right in your FireFox Browser using this plugin. Read More about WML Browser.
Above are 5 FireFox extension mostly used by me. Besides this there are so many that get tried and disabled later. Is there any FireFox Extension that is really important to you? If yes, please share by adding a comment below!