On internet there are no country boundaries. Even language barriers are blurred thanks to language translation services. With lot of good quality content available in English and other specific languages – translation is a must for non-English users in order to access and understand that content. Fortunately, there are free resources one can use to translate contents of favorite website into own language.
Language Translation from user point of view
If you come across a webpage in language not known to you but want to read contents – then translating language of that specific webpage is a good option.
1. Google Translate service from Google come real handy. Open Google Translate website, paste the URL of that webpage, select destination language and click Translate button to instantly view that webpage translated into language of your choice.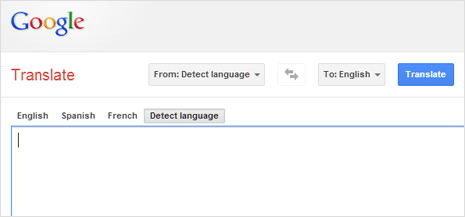 2. Google Chrome users have additional benefits as it automatically translates foreign language webpages into your default language. You should see pop-up bar asking for translation when you try to open webpage in language other than your default language. User can also install Translation Extensions for more control over translation in Google Chrome.
3. Bing Translation service also offer efficient language translation features. Open Bing Translator website, paste the webpage url or text contents, select language and then click Translate button for instant language translation.
Website publisher offer language translation option
As a webmaster and web publisher you can explicitly offer feature for quick language translation on the website itself without making user having to use any third party tools or services separately.
1. Google Translate Widget is most easy way to offer language translation feature to users. Open Google Website Translator plugin website and grab the code for the same. Once installed on your website, users can quickly translate your website contents into language of their choice.

2. Bing Translator Widget – Just like Google service, Bing (powered by Microsoft) also offer language translation widget. You can grab code for Bing Translator Widget website and paste it on your website. It also offer few customization options to play around.
3. WordPress website publishers can use either of language translation plugin. There are number of language translation plugins in WordPress directory you can try and use. Word of caution: some of these plugins cause seo issues (like duplicate content) as they create and save webpage of same content in different language on your server.
Research well before using any WordPress plugin for language translation. However, if you want most efficient way of offering language translation feature to users, then Google or Bing Translate widget for websites for sure is best option.