Chrome Web Apps provide an easy way to extend functionality and do more within Google Chrome browser. They allow quick way to access web contents and applications of your interest. Any Google Chrome users can install apps of choice from official Chrome Web Store. We have already seen procedure to install web apps in Chrome from the Chrome Web Store. There is also support for purchase of paid apps allowing you to use their advanced functionality. After install, if you do not like specific app(s) – you can quickly uninstall, remove or delete them.
Uninstall web apps in Google Chrome [longer method]
1. Open a new window of Google Chrome browser and then click on Apps option at the bottom. You should see list of all Web Apps currently installed in Google Chrome browser on your computer.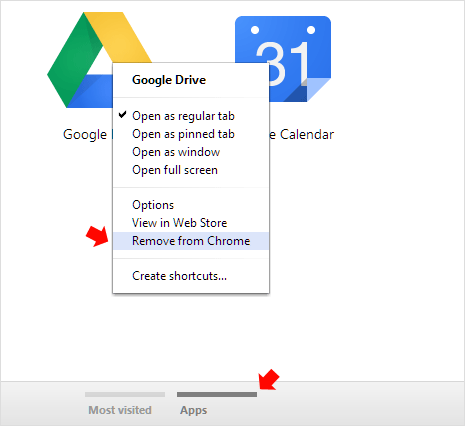 2. Right click on the Apps icon that you want to uninstall and then click on 'Remove from Chrome' option. This will delete that Web App from Google Chrome browser. Similarly, you can remove one or more apps as per requirement.
Remove Chrome Apps with quick Drag & Drop method
1. Besides the right click method, Google Chrome also support removing of Apps using quick drag and drop method. To get going, open the screen showing all Apps in Google Chrome (as seen in step 1 above).
2. Then drag the app icon and drop at 'Remove from Chrome' section appearing at bottom right part. You can drag and drop apps to quickly remove them without having the right click on App icons.
Video: Removing Chrome Apps using drag & drop