Bored of usual emoticon images in Skype program? Well, Skype has beefed up with brand new animated emoticon images. As expected, new Emoticons are crazily animated and funny.  They for sure can bring more fun while you chat with friends and family on Skype. These new emoticons are only available in latest version of Skype software. Here is preview of emoticons in latest Skype program.
List of new emoticons added to Skype program
Total of 7 new emoticon images are available in new Skype program. This include emoticons for: facepalm, working from home, fingers crossed, tumbleweed, lala not listening, waiting and hifi.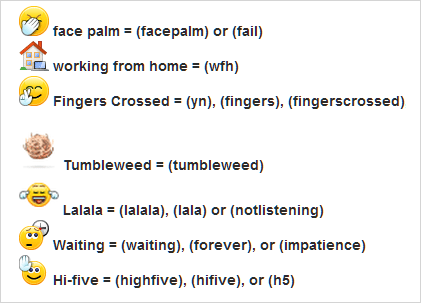 Besides these, two new 'not so safe' emoticons have been added – work hard to find those hidden emoticons.
How to use new emoticons in Skype chat
1. First make sure Skype software on your computer is updated to version 5.5 or above. To check version of Skype on your computer, open Skype software and goto Help > About. If you do have version 5.5 installed, open Skype.com website and goto Get Skype > Windows to download latest Skype on your Windows PC.

2. Once you have installed new version, start chat with any Skype friend. For sending emoticon during chat session, use text for specific emoticon. For example: for facepalm emoticon type (facepalm) in the chat window and press the Enter key – the Faceplam emoticon should appear to your chatting friend. Alternatively, you can click emoticon button and click to send specific emoticon image. [via Skype blog]
Video preview: 7 new Emoticon images in Skype