Emoticons (emoji) can be used to decorate messages send through Gmail. You can express variety of feelings using different type of animated and colorful emoticon images. Gmail has 100+ emoticon options and it can be tough ask choosing the right one. You can simplify and make the process of adding emoticons quick by displaying last 10 recently used emoticons. You can add favorite emoticons to Gmail message quickly without having to browse full emoticons listing.
Display last 10 Gmail emoticons (emoji)
1. After Gmail login, goto Gmail Labs page by clicking Labs icon at top right.
2. Scroll down and look for 'Recently Used Emoji' Labs listing. Click enable button next to it.

3. Then click 'Save Changes' button at the bottom of Gmail labs page.
4. Now click 'Compose' button. You should see 10 last / recently used emoticons on floating bar above message box.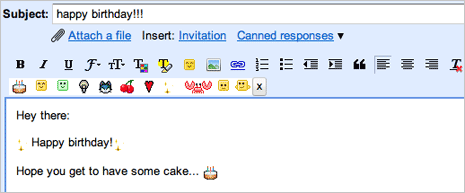 You can click to add either of your favorite emoticon from the floating bar displaying recent emoticons. For sure one quick way to customize Gmail for quicker emoticon addition. [via Gmail Blog]