There are so many religions around the world with respective important dates / days which is generally a holiday for public at large.
At times we forget or want to know the exact date of a special day like Veterans Day , Ganesh Chaturthi , Mawlid al-Nabi , Rosh HaShanah and so on. 'When is' is a cool website that provide you all such information.
It is an online listing of dates of religious and civil holidays around the world. Holidays are categorized under different faiths like Jewish, Christian, Hindu, Buddhist and American.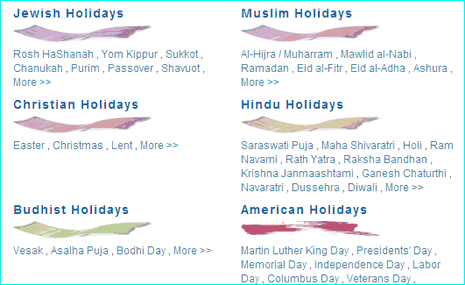 Homepage cleanly list important days from each faith, you can click through for more details. You can find specific festival or special day spread across number of years from 2006 – 2015. Checkout and bookmark 'When is' and never forget those special days!