Do you want to use applications with specific date – time settings without changing normal system date -time? This is possible using portable tool "Run As Date". It allows you to specify any date and time for any program on your computer and use it accordingly. Utility does not change the current system date and time of your computer and it only injects the date – time that you specify into the desired selected application(s).
Launch programs with specific date & time
1. Download Run As Date program. Unzip downloaded files and double click to start the utility.
2. Click 'Browse' to select exe file of program that you want to run with different date and time settings.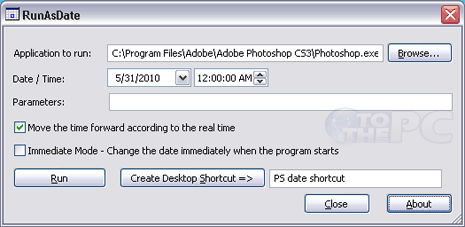 3. Then choose specific date and time for selected program.
4. Enter name for quick shortcut icon to launch program with respective date and time settings from the desktop.
5. Click 'Run' button to launch and use program with specified date and time information.
You can launch multiple program with varying date and time settings without changing the current system date and time settings. For more "date and time" tweaking, you can even display date / time information on title bar of active window on Windows PC.