Are you bored of file icons in VLC player? Give VLC experience a little makeover with portable tool 'VLC Icon Changer'. As the name suggests, it allows you to change icons of files associated with VLC player installed on the computer. Using this tool, you can set different and unique icon for specific type of media file format like avi, divx, asf, dts and so on.
Customize file type icons for VLC player
1. Download VLC Icon Changer program.
2. Double click downloaded file to launch program.
3. Click 'Browse' to select different icon & click 'Apply' to set new icon.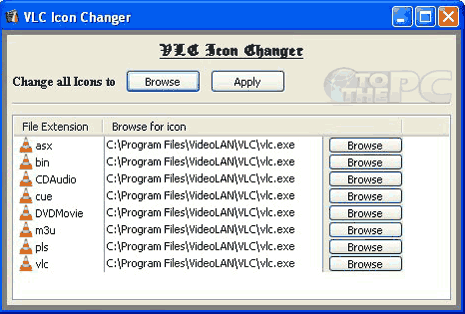 You can set specific icons for all file types for VLC or selectively chose different icon for different file types associated with VLC player. One easy and handy way to customize icons for VLC player. You can also customize interface using different VLC player skin.