VLC player has been hot favorite of many users to play any kind of videos without worrying about video format. New version of this excellent video player (VLC player 1.0.0 – GoldenEye) is available for download and use. It has number of new features for smoother video viewing experience. New feature list includes: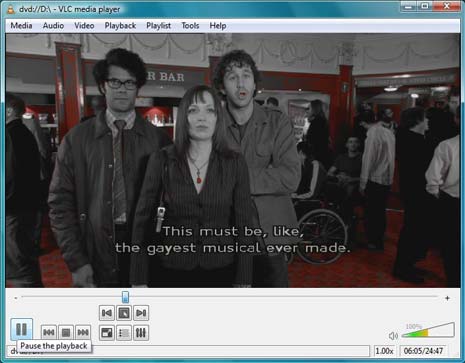 Related – Download Skins to Jazz up your VLC Media Player
1. Support for New HD codecs like AES3, Dolby Digital Plus, TrueHD, Blu-Ray Linear PCM, Real Video 3.0 and 4.0
2. Instant pausing and Frame-by-Frame support.
3. Finer speed controls and Live recording.
4. Video scaling in fullscreen.
5. Support for new formats like Raw Dirac, M2TS and major improvements in many other formats.
Download VLC media player (new version 1.0.0 – Goldeneye) for Windows, MAC and Linux. It is small, quick and plays all your favorite videos smoothly!