Finally, Microsoft has officially launched much awaited product of Windows users – Windows 7 operating system is now available for purchase. It promises lot of new features and improved performance. It should appeal to loyal XP users and disappointed Vista users to make a switch to Windows 7 OS platform.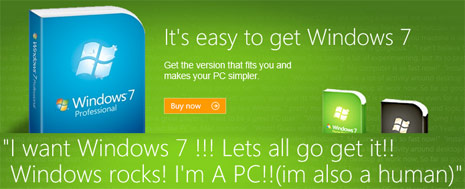 Buy online: quick download or get DVD
You can easily buy Windows 7 online from Microsoft Store or local vendor. You can either download operating system online or receive Windows 7 DVD shipped to your place. Price of full Windows 7: Professional is $299, Ultimate is $319, Home Premium $199. Upgrade from existing Vista / XP to Windows 7: Professional is $199, Ultimate is $219, Home Premium $119.
Read the Windows 7 buying guide answering basic Windows 7 questions. Then head over to Microsoft Storefor actualy purchase of Windows 7 operating system.