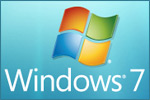 Windows 7 might be launched earlier than expected. Overall response has been good to beta release versions, as it being more responsive and speedy compared to Vista. Here are minimum system requirement specifications [source] to run Windows 7 on your computer.
1GHz processor (32- or 64-bit)
1 GB RAM (32-bit) / 2 GB RAM (64-bit)
16 GB available disk space (32-bit) / 20 GB (64-bit)
A DVD-R/W drive
Support for DX9 graphics with 128MB of memory (for Aero)
Minimum specification can be deceptive, remember those days when computers with 512MB memory were marked Vista compatible – they worked at pathetic speed. From practical point of view, 2GB memory should make Windows 7 run like charm – waiting for the real thing!