Youtube does not need introduction. There is buzz that Youtube is more over-powering for videos than Google for Search. With tons of videos online, finding specific ones can be a task.
While there is iDesktop.TV for a different Youtube experience, here is another one "YouTube Fast Search". As the name suggest, with this you can search Youtube videos on the fly. Best part is ability to drag and drop videos you want to play now or add to your playlist.
Interface is neat with no frills, you can watch a video, make a  playlist and search video simultaneously. Only downside as pointed by Google OS – there is no option to save playlist to your YouTube account or import an existing one.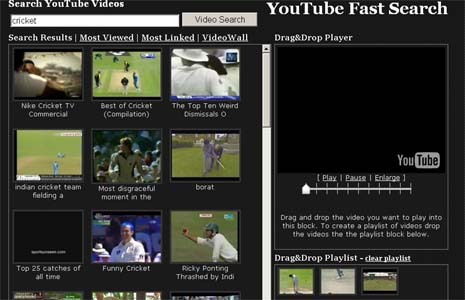 Still it is worth try (even more) if you are addicted to watching Youtube videos day in and out. A different way to search and watch Youtube Videos on the fly. Here is YouTube Fast Search.