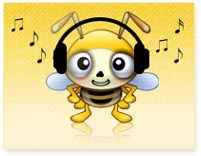 Most of us are hooked to listening to music when online or doing some work on computer. Also, with music collection growing and growing one tends to run out of hard drive space to store music. Hey, how about listening to music online?
Well, there are number of website that can help in searching 'your type of music' and enjoy listening. Here goes the list:
1. BeeMp3 – This site seems like buzzing with loads of music. It has very clean interface, besides the search bar it also shows some top chart songs with likes of Kylie Minogue, Nelly Furtado, Chris Brown etc. At the bottom, it displays last 200 searches, so use that incase you feel lost on what to search.  Check out BeeMp3
2. Use Google to search for Music- Yeah big G can help you search specific music as well. You need to type in the special query in the google search box and you will get loads of links with Mp3 files ready for download. Check out more details
3. Songza – Another very useful website to search for favorite music. It allows you to search, play, embed, rate and even make playlist of your favorite songs. Check out more details
4. SkreemR – It has very clean interface with nothing to divert your attention. Simply type the keyword and start searching for the music you want. Check out skreemR
5. SeeqPod – It of course has the search box to discover some music of your choice. Besides, it also flashes some random music results at the lower half of homepage. You feel like watching the results change and clicking on something that catches your attention. Check out SeeqPod
I am sure you are already listening to some music. Do you use some other tool or web application to dig out music? Yes, then please share with us by adding a comment. Rock the World!